Why the packaging machine industry will develop rapidly after the coronavirus pandemic?
Feb 01,2022 / in Blog / Top ten China packaging machine manufacturing companies
As coronavirus outbreak has spread and its humanitarian impact has grown, industries that help provide for essential needs, such as getting food and required supplies safely to consumers, are increasingly affected. With food packaging being the packaging industry's largest area of activity, the $1200 billion per year worldwide industry is on the front lines. The coronavirus crisis has already led to some of the sharpest declines in recent times in demand for certain types of packaging while accelerating growth for others—such as packaging for e-commerce shipments that are emerging as lifelines in this new world. Such changes are presenting many packaging companies with a new set of challenges. In this article, we present a three-step plan to help them navigate through the crisis.
Packaging demand is expected to move through three phases during the outbreak
We expect that the impact of the coronavirus crisis on the packaging industry will be mixed—and this pattern has already been playing out in countries such as China and South Korea, which have been the first to confront the pandemic. Demand will rise sharply for packaging for groceries, healthcare products, and e-commerce transportation. At the same time, demand for industrial, luxury, and some B2B-transport packaging could decline. The impact on packaging players will depend on their portfolios and exposures to different regions, end uses for packaging, and substrates (Exhibit 1). As the pandemic tightens its grip on other regions, packaging demand in those regions is likely to move through three phases.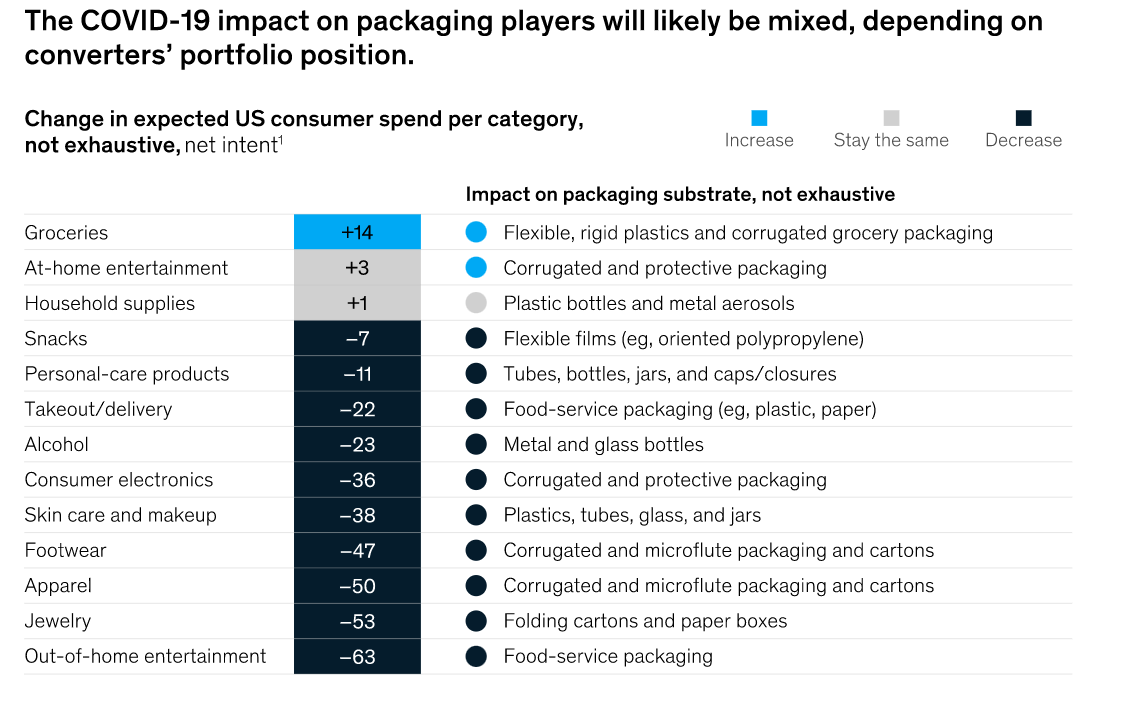 Phase one is the period of initial shock, which typically lasts at least four weeks but can extend for much longer. Changing consumer sentiment1 translates to cutbacks in a number of categories, reducing demand for certain types of packaging. The immediate demand shocks to the packaging industry are less drastic than for sectors such as travel and hospitality, but they could be substantial in several areas:
Industrial, bulk, and transportation packaging. Demand for this type of packaging is closely linked to the trend in GDP and the level of industrial activity, so the sharp decline related to COVID-19 leads to a reduction in packaging demand. However, some of this is being offset by industrial customers stockpiling purchases of intermediate bulk containers and drums, which causes a temporary spike in demand. At the same time, several segments—such as packaging for the food and pharmaceutical industries—continue to see robust demand. High growth in demand for corrugated packaging for e-commerce and grocery deliveries is also offsetting some demand lost elsewhere with industrial customers.

Consumer packaging. Demand is likely to shift drastically in the food area as the pandemic shuts down restaurants and food-service outlets. Consumers will thus continue to move to grocery purchases, for which packaging demand will rise. Consumers' wishes to stockpile and their panic purchases of food, beverages, and home-care necessities have accentuated this trend. But demand for nonfood and premium-good packaging is being hit as stores are required to close and as consumers start to cut back on their spending.

Healthcare packaging. Demand will rise across different healthcare-packaging types and related substrates, including flexible blister foils, pumps, closures, and rigid plastics. Similarly, demand will rise for packaging used in dietary supplements, such as vitamins, and for essential supplies, such as allergy medication, that consumers will need in a lockdown situation.

The packaging industry also needs to be ready for second-order effects triggered by the COVID-19 crisis. As crude-oil prices have fallen (partly because of the pandemic's effect on demand), the cost of oil-based raw materials, such as plastic resins for the packaging industry, is likely to fall. The strengthening of the US dollar has improved the relative competitiveness of packaging-raw-material makers based elsewhere. At the same time, border closures are leading to challenges for companies with extended supply chains and those that rely on teams to be able to move internationally to overhaul equipment. These developments spell a period of high uncertainty for many areas of packaging demand and different packaging substrates. The unpredictability of how government actions to mitigate the adverse economic effects of the pandemic might play out further clouds the outlook.
Phase two covers the period when countries and regions bring the pandemic under control. The length of this period is, of course, uncertain, and it is realistic to consider a number of scenarios for its duration, from a few quarters to longer than one year.2 Reduced household disposable income and weakened corporate balance sheets are expected to lower demand across most end-use segments for packaging, with the exception of healthcare and certain food categories.
During this phase, we expect certain consumer behaviors, such as stockpiling, will slow while others, such as grocery purchases via e-commerce, will accelerate. Key implications for packaging include nongrocery retail likely coming to a near halt, demand for low-cost private-label goods likely increasing, and demand for high-end packaging likely declining. The fight to defeat COVID-19 could also start to affect packaging choices, favoring packaging designs and substrates that demonstrably address hygiene and consumer-safety concerns—for example, those that minimize the possibility of the virus's survival on the packaging surface.
Packaging players also need to ready themselves for other developments. Depending on the severity and duration of the crisis, lower household disposable income and weakened corporate balance sheets at the companies that are the customers of the packaging industry could result in significant pressure to reduce selling prices and costs along the whole packaging-industry value chain. Companies need to prepare for scenarios under which small and medium-size enterprises and heavily indebted companies could end up bankrupt—events that could sweep away customers, subsuppliers, and printers. In our view, the severity and duration of phase two will be highly dependent on governments' actions to mitigate adverse economic effects.
Phase three is the rebound, in which we expect to see packaging demand gradually return. Some sectors, such as packaging for food service, should see a rapid rebound of demand. For others, the rebound is likely to be slower, as consumers are likely to be more hesitant to return to luxury products, travel, and the hospitality industry. Consumers' purchasing behavior could stay soft as businesses emerge only weakly from the crisis and employment levels suffer.3 The speed of packaging players' recovery will be differentiated largely by segment, depending on the degree of disruption among the segment's customers and challenge to different players' supply chains.
Prev News:Vacuum sealing packing machine
Next News:Are One-Way Valves Right for Your Coffee Packaging Process?