Multihead Weigher Vertical Form Fill Seal Machine With Z Type Conveyor
Jun 09,2022 / in Blog / Top ten China packaging machine manufacturing companies
Yashicun Machinery is with about 13 years history, located in Zhengzhou City, China. We concentrate on research and development, manufacturing, installtion, commissioning and technical service, the products including vertical packing machine, horizontal flow packing machine and varies automatic feeding abd packing lines, and so on. We ever exported to America, Russia, Europe, Middle East, South Asia, Africa, South America, and so on, more than 30 countries and regions.
The machine have been widely apply in food, agricultural products, industrial supplies, daily necessities, etc. As an advanced packaging equipment manufacturer, we are committed to providing professional packaging solutions for enterprises, which can make the packine process get a qualitative improvement, greatly save labor, avoid secondary pollution, improve production efficiency in an efficient way.
Now I would like to introduce you about one of our hot sale machine--YSC-420A packing machine.
The whole machine is composed of three parts: Z type conveyor, 10-head weigher, main packer. Now I will introduce them in separate.
This is the Z type conveyor, it can transport your product into the weigher, this is the 2L hopper one, transport speed is 3-6m3/h

The Humanized design is easy for people to feeding product into the hopper. Drive the hopper to lift through the transmission of the chain. It suir for the many kind of product, like flake and block products such as grain, food, feed, chemical industry, etc. the product is adopt national food plastics material to ensure food safety. Simple structure, simple installation and disassembly, easy to clean. Specifications can be customized according to customer requirements. We have the bigger size like 4L hopper.
This is the 10 head weigher, there have a sensor on the top of the material table, if there are too many products, the conveyor will stop transport prouduct into the weigher, and the lack of materials can be automatically suspended to make the weighing more stable. The working principle is through computer calculation, with the perfect combination of high precision and high speed, the best weight combination is instantly selected from the rich weight combination to achieve the preset weight. The high-precision digital sensor can achieve accurately measure. the accuracy is 1-1.5g.

The contact material of the electronic scale is optional and can be customized according to the packaging product. If it is a product with a relatively high viscosity, it can be made into a patterned surface, or Teflon--non-stick pan material
It control by the touch screen, will be more easier to operate. All the parameter and function can be set in the touch screen. And it have 15 language can be choose.
This is our main packer,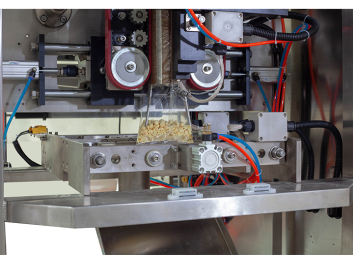 Complete the whole process of automatic feeding, measuring, filling, bag making, date printing and finish product output.
LD series packing machine is with new design, the reasonable structure and advanced technology, make it hot sale at home and abroad.
The whole set of machine is operate automatically. With imported PLC control system and servo motor, from Panasonic--Japan, stable operation, Taiwan weinwive touch screen, sensitive interface operation, Taiwan Airtac pneumatic part, stable heat sealing and low failure rate.
The machine can connect with the production line after output, becoming a complete set of packaging scheme, saving more labor and cost
So even in the same working situation, our machine will be more durable and stable than the other machine.
Above are introduce of our machine, any question of our machine, please let me know freely.
Prev News:How To Achieve Airless Package Of Sauces
Next News:Best 12 China Packaging Machine Manufacturers